Woodland and Forestry
Wheatley Woodlands can undertake a wide range of woodland and forestry work within an average 25 mile radius of our base near Dorking, Surrey.
As specialists in conservation our team's aim is to work with customers to meet their requirements throughout the planning and implementation of projects bringing work in on time and budget and with minimal impact on the surrounding environment. Much of our woodland management focuses around carrying out work on National Nature Reserves, Sites of Special Scientific Interest, Local Nature Reserves and private small woods, frequently as part of management plans for the woodland.
Our range of services can be seen below;
Felling works
We are able to carry out felling work using skilled chainsaw operators either as part of a one off project or part of a wider management programme.
All our chainsaw operators hold relevant NPTC qualifications.
Timber Forwarding and Extraction
Timber forwarding and extraction is the movement of timber from the stump to a suitable stacking point for onward road transport or further processing. Wheatley Woodlands operates two sizes of tractor and forwarder trailer combinations for this work to suit the location and type of timber being handled.

The bigger trailer is equipped with a 6 metre reach Botex 560TL crane which is capable of lifting substantial butts of timber with ease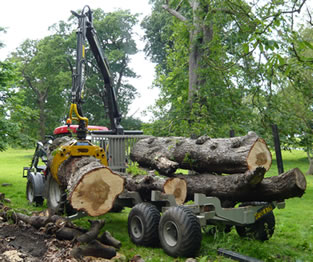 The smaller trailer is well suited to working with firewood and small timber in confined spaces that are often be found in smaller woods.
We can also offer timber extraction using a skidding winch where conditions are not conducive to the operation of a forwarder combination.
Woodlands Maintenance
Wheatley Woodlands carries out regular ride and rights of way mowing along with annual cutting back of ride edges to maintain easy access.
We are also able to carry out fencing work together with the installation of gates and other rights of way furniture.
Our team is able to implement site management plans.
Wheatley Woodlands can supply firewood logs to customers in our local area produced from trees felled as part of our conservation and woodland management projects.